The novel coronavirus pandemic has impacted people's daily lives. Below are a list of resources and information that can help during this time.
---
Personal Finance
Protect Yourself Financially from the Impact of the Coronavirus (Consumer Financial Protection Bureau)
Federal, state, and local governments are working to respond to the growing public health threat of coronavirus, or COVID-19 . As communities across the country are dealing with an increase in the number of reported cases, many areas may be impacted by the temporary closure of businesses, schools and other public facilities or events, and in some cases, quarantines. While these actions are necessary steps to help reduce exposures, it may bring financial uncertainty for many people who could experience a loss of income due to illness or workplace closures.
Avoid Coronavirus Scams (Federal Trade Commission)
Scammers are taking advantage of fears surrounding the Coronavirus. This resource has some tips to help you keep the scammers at bay.
Coronavirus Scams, Part 2 (Federal Trade Commission)
Here's an update on more scams the FTC is seeing, and steps you can take to protect yourself, your personal information, and your wallet.
Filing Taxes
Volunteer Income Tax Assistance (United Way of Central Jersey)
Did you file an extension for your 2019 taxes? If you made $65,000 or less last year, United Way's VITA volunteers can prepare your taxes for free! VITA can also assist in preparing prior year taxes or amended forms. Don't wait until the last minute to make your appointment.
Contact VITA before October 9th to ensure that your ensure that your return is filed by the October 15th deadline! 
Federal Student Loans
Coronavirus and Forbearance Info for Students, Borrowers, and Parents (Department of Education)
Federal Student Aid is actively monitoring the new coronavirus/COVID-19 outbreak. If you're concerned about your studies or loan repayment, their Q&A page can help you understand what to do in certain circumstances.
Rent and Mortgages
Information on Rental Property and Evictions under Executive Order 106(New Jersey COVID-19 Information Hub)
On March 19, 2020, New Jersey Governor Philip Murphy issued Executive Order 106, which immediately suspends evictions throughout the state.
This is called an "eviction moratorium," and means that no tenant may be removed from his or her home as a result of an eviction proceeding, with rare exceptions for cases such as when a tenant is violent or endangering other tenants.
COVID-19 and Residential Mortgage Relief (State of New Jersey Department of Banking and Insurance)
The State of New Jersey is working to lessen the financial impact of COVID-19 on residents who are struggling to pay their mortgage and bills. On March 28th, Governor Murphy announced that Citigroup, JP Morgan Chase, US Bank, Wells Fargo, and Bank of America, in addition to over 40 other federal and state-chartered banks, credit unions, and servicers have committed to providing relief for consumers and homeowners in New Jersey. Since that date, many institutions have joined the effort to assist New Jerseyans by committing to this providing this relief.
Utilities
FirstEnergy (Jersey Central Power & Light)'s Response to Coronavirus
On March 13, FirstEnergy announced that they were suspending all service shutoffs for past-due accounts. If your service was disconnected for nonpayment prior to this date, please contact them so that they can work with you to ensure your restoration is conducted safely.
PSE&G Temporarily Suspends Shut-Offs Due to Coronavirus
PSE&G has suspended shut-offs of electric and/or gas service to residential customers for non-payment. This will give customers experiencing financial difficulties as a result of the outbreak additional time to pay their bills. For more information, visit pseg.com/help.
Employment Resources
Find a Job
State of New Jersey COVID-19 Jobs and Hiring Portal (State of New Jersey)
The State of New Jersey has developed a centralized resource to match talent with opportunities in industries on the front lines of serving New Jerseyans during the outbreak. Did you lose your job or have your hours reduced as a result of COVID-19? Businesses across New Jersey need thousands of workers for immediate hire. Learn more about who is hiring in your community.
Employment Benefits
NJDoL Benefits and the Coronavirus: What Employees Should Know (NJ Department of Labor & Workforce Development)
Each state benefit or protection has its own eligibility criteria. The Labor Department examines cases on an individual basis, and makes eligibility determinations in accordance with the law.
The scenarios listed in the resource are for state and federal benefits and protections. Clearly, many employers have their own more generous policies. Consider speaking with your employer about alternatives that may be available such as paid time off, working remotely, taking a leave of absence, and other opportunities or flexibilities that may be available.
COVID-19 Scenarios and Benefits Available (NJ Department of Labor & Workforce Development)
This at-a-glance chart lists COVID-19 related benefits for NJ employees.
NJDoL and the Coronavirus: What Employers and Businesses Should Know (NJ Department of Labor & Workforce Development)
As the New Jersey economy reopens, employers will have new questions about the unemployment benefits available, and workplace health and safety and caregiving protections they must offer their employees. The questions and answers in this resource help illustrate under which limited conditions benefits may still be available, and describe some of the laws that employers should be aware of as they bring employees back to work.
Health Insurance
Affordable Care Act Special Enrollment
If you have lost your health insurance due to loss of employment, you can qualify for a special enrollment under the Affordable Care Act. The Oranges ACA Navigator Project  can assist you with signing up for health insurance. Contact them at 973-500-6031 ext 104.
State Data and Policy Actions to Address Coronavirus (Kaiser Family Foundation)
To date, states have taken a number of actions to mitigate the spread of the virus and reduce barriers to testing and treatment for those affected. This data tool provides state-level information on:
Social distancing measures
Health policy actions to reduce barriers to COVID-19 testing and treatment
Additional state-level data related to COVID-19, including testing and provider capacity
COVID-19 Resources for Individuals Who Are Undocumented or Uninsured (New Jersey Department of Health)
The State of New Jersey is focused on ensuring that all people, regardless of immigration status and/or whether or not they have health insurance, are protected from the outbreak and receive appropriate testing and treatment. You should talk to a medical professional about when and how to seek testing and treatment.
ACA Special Enrollment Period (The Family Resource Network)
2020 Open Enrollment is over but some individuals may qualify for Special Enrollment Period (SEP). You qualify for a SEP if you've had certain life events, including losing health coverage, moving, getting married, having a baby, or adopting a child. If you qualify for an SEP, you usually have up to 60 days following the event to enroll in a plan. If you miss that window, you have to wait until the next Open Enrollment Period to apply. You can enroll in Medicaid and the Children's Health Insurance Plan (CHIP) any time of year, whether you qualify for a Special Enrollment Period or not.
Mental Health Support
Social and Emotional Support to Individuals and Families Impacted by a Cancer Diagnosis (Cancer Support Community Central New Jersey)
If you or someone you know is affected by cancer and you are seeking individual and/or group support; bereavement support, or you want to talk with someone because of the current COVID-19 situation, call Katherine Schaible at 908-658-5400 x4
Services and Referral Information for Victims and Survivors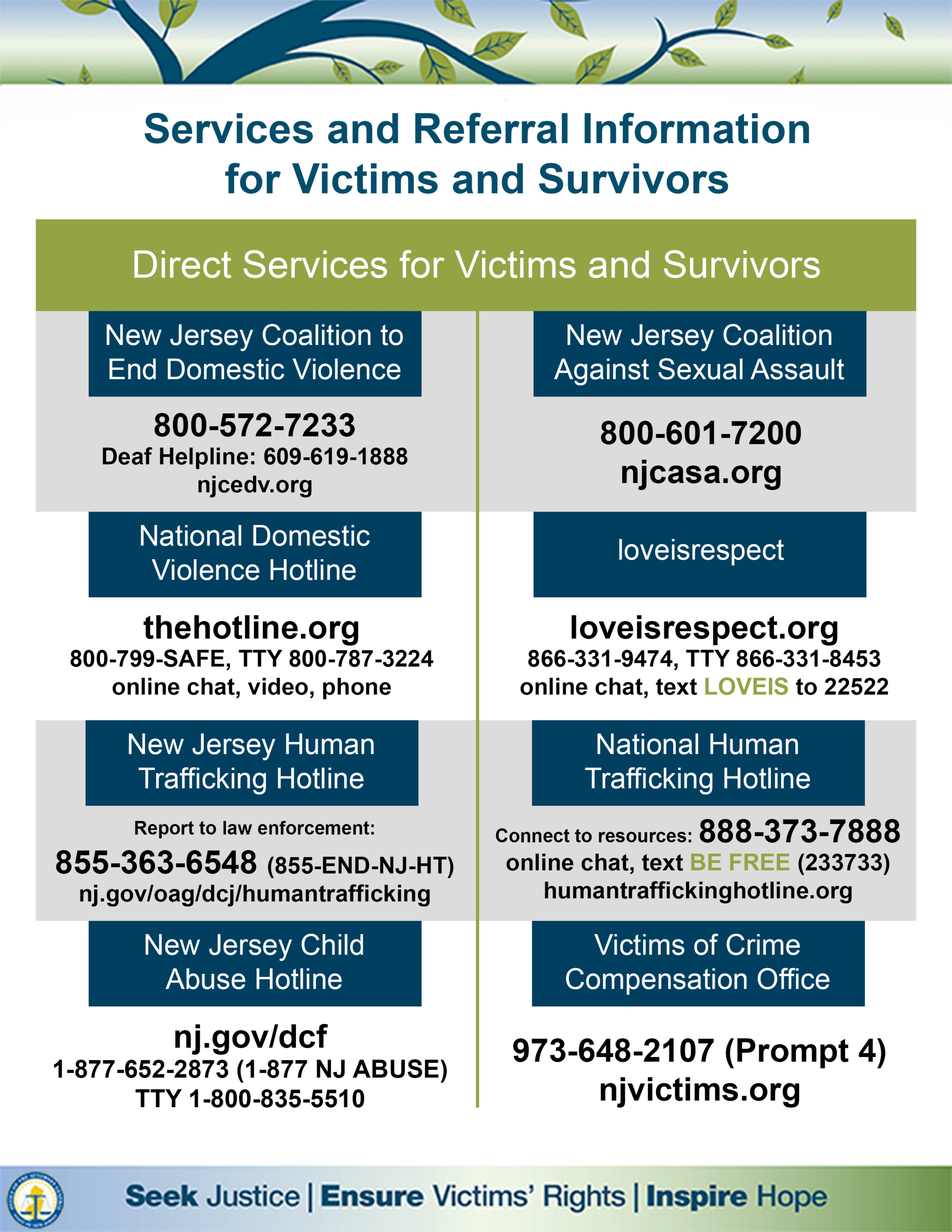 Gun Safety and COVID-19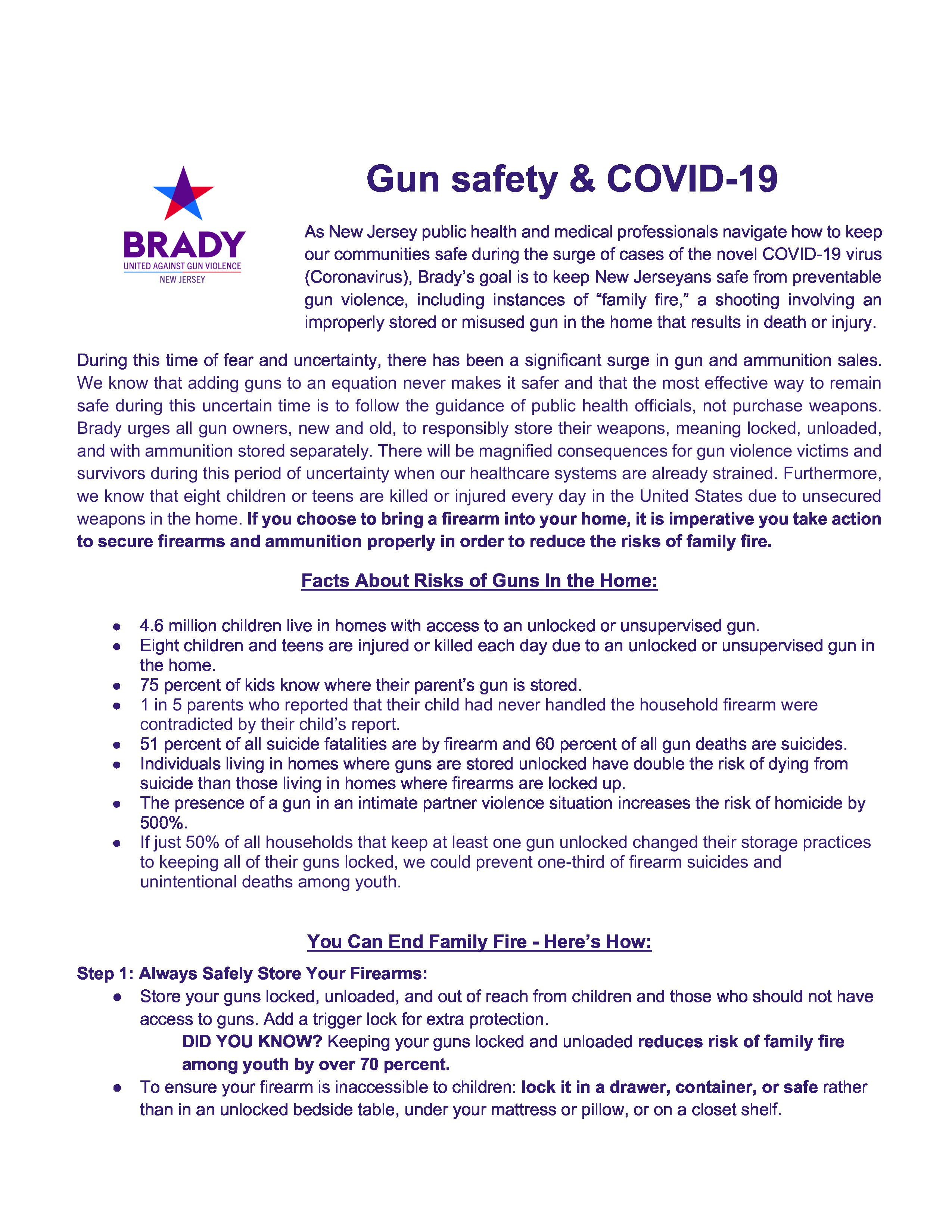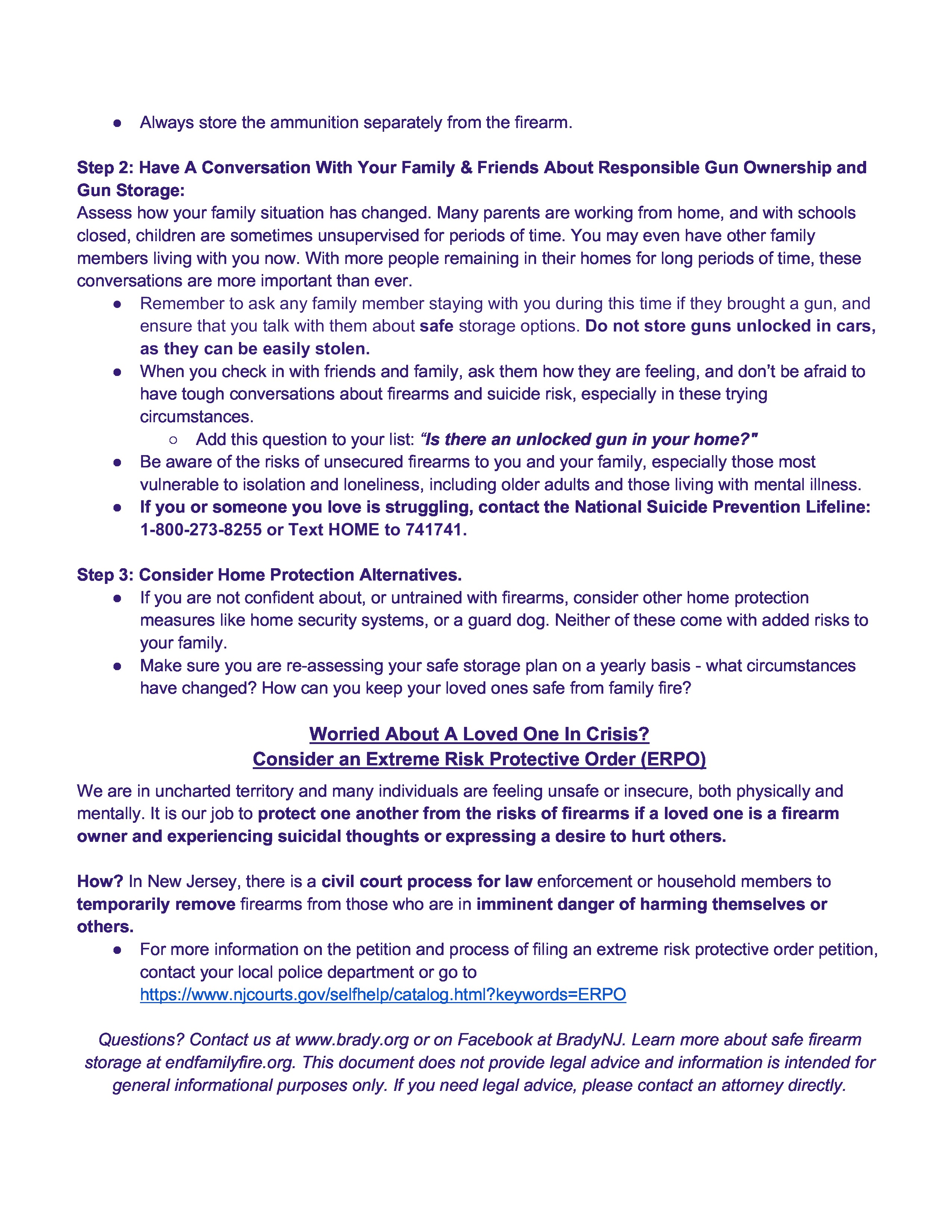 Information for Friends, Family, and Neighbors
Food and Groceries
Some food establishments are assisting East Brunswick township senior citizens by making accommodations to their hours and service.
New Jersey Supplemental Nutrition Program for Women Infants and Children COVID-19 Food Substitutions (New Jersey Department of Health)
In light of COVID-19, New Jersey WIC is allowing additional food items in anticipation of limited food selections related to recent events.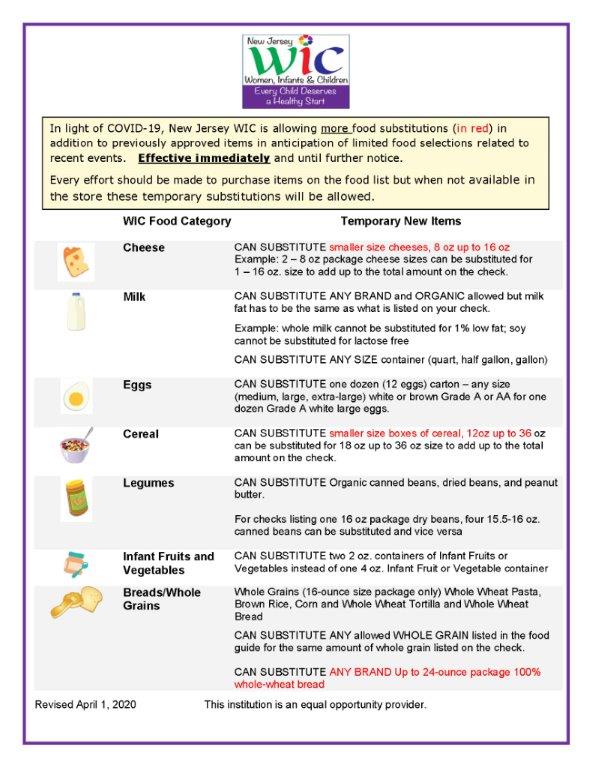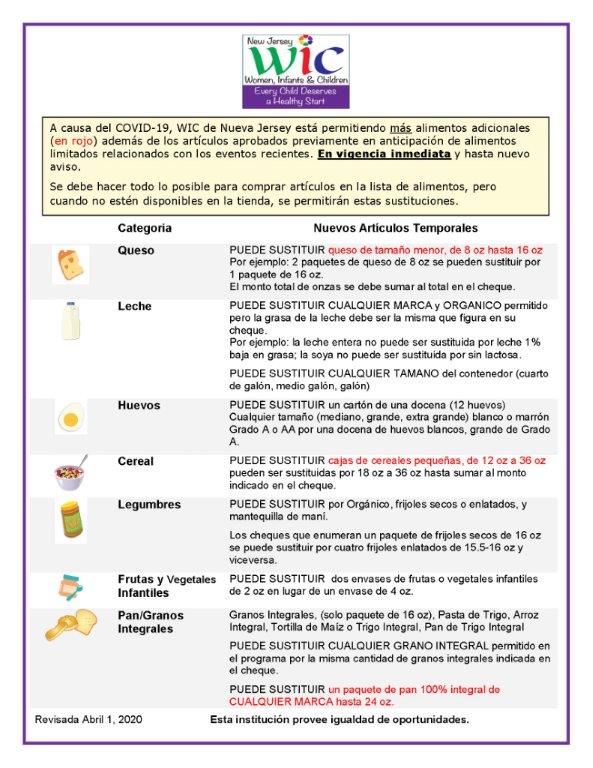 For a list of food pantries in Middlesex County, please click here. 
If you or someone you know has extra supplies or food they would be willing to donate, many pantries are accepting them. Please call ahead to identify what the pantry has run out of/is still in need of.
Aldersgate Outreach Community Center
Hours: Sunday, Tuesday, Friday 1:00pm - 3:00pm
732-254-73661 option 2
562 Ryders Lane
East Brunswick, NJ 08816

Must be a resident of Middlesex County for food assistance. Government-issued photo ID (passport, driver's permit or license, city or state non-driver ID must be presented.
St. Mary & St. Stephen Coptic Church
Hours: Saturday 6:00pm - 7:00pm
917-436-8603 or 732-857-0188
12 Gates Avenue
East Brunswick, NJ 08816

Food assistance is available to those in need twice a month. Clothing and financial assistance are also available on a limited basis.
Supporting Your Community
Community Food Drive (East Brunswick Department of Recreation, Parks & Community Services)
Hunger doesn't take a summer vacation and all food pantries are struggling to keep up with the demand this year.Non-Perishable food may be donated by dropping off in the box truck located in the parking lot of the Recreation & Parks Department,334 Dunhams Corner Road. The rear door of the truck is unlocked but pulled down so you can lift it slightly to put donations in if the door in pulled all the way down. Cash and Gift Card donations are also accepted - place them in an envelope and put in the Drop Box next to the main entrance to the Recreation Office.
COVID-19 and Blood Donation (New York Blood Center)
The New York Blood Center Enterprises (NYBCe) is closely monitoring the outbreak of coronavirus disease 2019 (COVID-19) and continues to carry out their lifesaving mission in their communities.
To ensure they are prepared to support health agencies in our communities and across the country, NYBCe strongly urges individuals who feel healthy and well to make an appointment at a donor center or blood drive to give blood, platelets and plasma.
Call 1.800.933.2566 to make an appointment.
NYBCe is committed to the safety of our donors, volunteers, employees and blood recipients, and to transparency with the American public during this evolving public health emergency.
There is no data or evidence that this coronavirus can be transmitted by blood transfusion. In fact, there have been no reported cases of transfusion-transmission for any respiratory virus, including this coronavirus.
It is safe to donate blood, and healthy individuals are encouraged to donate so that blood is available for those patients who need. Blood collection sites are disinfected frequently, and they are taking extra precautions to help prevent the person-to-person spread of COVID-19 as per CDC recommendations. Staff are also practicing health self-assessments prior to presenting at work.
It only takes one hour to donate, and a single donation can be used to save multiple lives.
Sew Masks (Saint Peter's University Hospital)
Saint Peter's University Hospital is in need of surgical masks and is asking volunteers to sew masks. The masks need to mold around the nose and have the ability to insert a filter. A tutorial to make such a mask is available below. That particular mask allows the use of elastic or ribbon.


Mail completed masks to:
Saint Peter's University Hospital
c/o Tabiri Chukunta, Executive Director of Community Outreach
254 Easton Avenue
New Brunswick, New Jersey 08901
Local craft and fabric stores sell remnants online and offer curbside pick-up. If someone is having difficulty acquiring fabric, please contact Susan Choma at delaneysusan@outlook.com. For additional information contact Jim Choma at 732-745-8581; Email JChoma@saintpetersuh.com.
Use your phone and devices to be a participant in science projects to solve world problems and advance scientific knowledge. Be a Citizen Science.
Project examples: COVID-19, Gravitational Waves, SETI, Environmental research.
COVID Near You (Boston Children's Hospital & Harvard Medical School)
COVID Near You is a website that allows the public to quickly and easily report COVID-19 symptoms or testing activity. Using participant-submitted reports, COVID Near You Near You maps this information to provide local and national views of the illness.
Information for Immigrants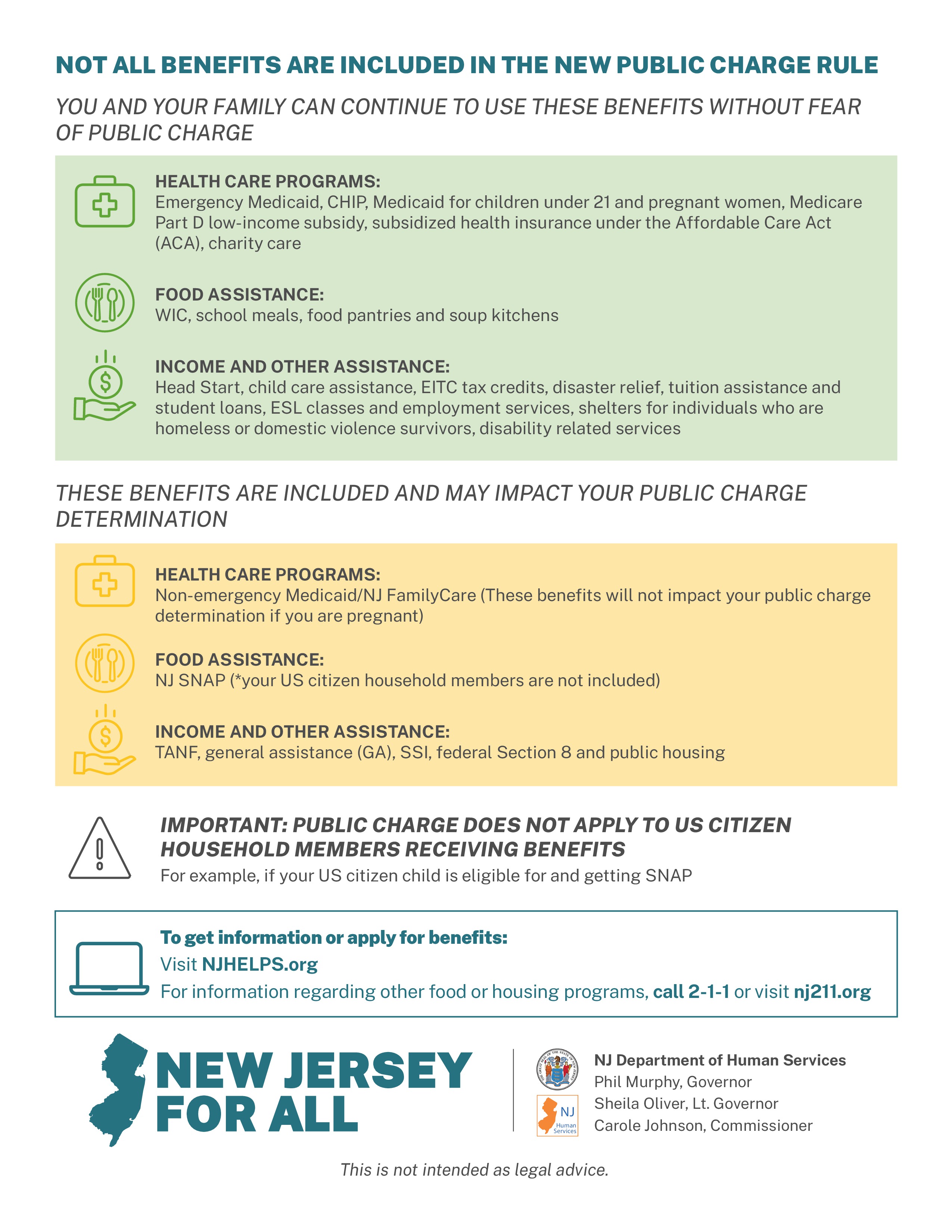 Information for Kids
Coronavirus: A Book for Children
This is a book for kids about the coronavirus that has a nice question and answer format. Publisher Nosy Crow made this book quickly to meet the needs of children and their families.
Remote Learning
NJTV Learning Live (New Jersey Television)
NJTV Learning Live is a unique on-air instructional series to help kids learn remotely. Created by NJTV in partnership with the NJEA and the NJ Department of Education, hour-long classes for grades 3-6 are taught by NJ public school teachers. Lessons are archived on the website to rewatch.
Internet Access
Comcast is offering their affordable 'Internet Essentials' package for low-income households for free to new customers for 60 days. To sign up, applicants can simply visit www.internetessentials.com. The accessible website also includes the option to video chat with customer service agents in American Sign Language. There are also two dedicated phone numbers 1-855-846-8376 for English and 1-855-765-6995 for Spanish.
New Jersey's law against price gouging is now in effect. This law prohibits excessive price increases during a declared state of emergency, or for 30 days after the termination of the state of emergency. Excessive price increases are defined as price increases that are more than 10 percent higher than the price at which merchandise was sold during the normal course of business prior to the state of emergency. Retailers are subject to fines of $10,000 for an initial offense of violating the law, and $20,000 for each subsequent offense. Anyone who believes they have been targeted by a scheme related to coronavirus, or were victimized by unreasonable price increases, should file a complaint, either online at www.njconsumeraffairs.gov or by calling 973-504-6240.
Information for COVID-19 Workers and Researchers
Protecting Yourself from COVID-19 in the Workplace (National Institute of Environmental Health Sciences)
The National Institute of Environmental Health Sciences Worker Training Program has been tracking information about the coronavirus disease 2019 (COVID-19) as it pertains to protecting workers involved in emergency response and cleanup activities performed in the United States. This resource contains health and safety resources for workers who may be at risk of exposure to COVID-19.
COVID-19 Novel Coronavirus (DynaMed)
DynaMed is a resource with current and accurate, evidence-based content for practicing clinicians. They are making their information on COVID-19 available online for free.
Research on COVID-19
LitCovid (National Center for Biotechnology Information)
LitCovid is a curated literature hub for tracking up-to-date scientific information about the 2019 novel Coronavirus. It is the most comprehensive resource on the subject, providing a central access to 1200 (and growing) relevant articles in PubMed. The articles are updated daily and are further categorized by different research topics and geographic locations for improved access.
Global Research on Coronavirus Disease (COVID-19) (World Health Organization)
WHO is gathering the latest scientific findings and knowledge on coronavirus disease (COVID-19) and compiling it in a database. The database is updated daily from searches of bibliographic databases, hand searches of the table of contents of relevant journals, and the addition of other relevant scientific articles that come to our attention. The entries in the database may not be exhaustive and new research will be added regularly.
---